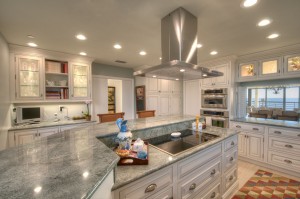 An effective design professional (draftsman or architect) is skillful in their trade, listens to their clients, and works to create a beautiful, functional and sustainable project  that realizes the homeowner's  vision and works within their budget .
In my experience, choosing a contractor who works with such a professional yields a better outcome for everyone.  The contractor will make sure that the plans reflect the entire scope of the project and that the designer creates a set of plans that sub-contractors can read and understand.  When sub-contractors have a clear picture of what they're bidding on, the price will invariably be more competitive.  This relationship also assures  the client that the design professional will be readily available in case any changes occur.
Even the smallest project has lots of variables that must be understood and addressed up front to assure the client's satisfaction.  Homeowners are often told what they want to hear,  instead of what they need to know.  Recently we were called to complete a project when the client became alarmed with the experience level of the contractor.  If the project had been completed as drawn, the client's vision would have not realized.
Recently I was with my cabinet company at an upscale condo on Longboat Key's waterfront. The owner mentioned a unit that was under construction which had captured her imagination. I suggested that we visit the project. While it was an impressive design, I  noticed that the upper kitchen cabinets were only thirty (30) inches tall. We had completed a similar  project in the past year and knew that there was room for forty two (42) inch tall upper cabinets. This would have replaced much of the cabinet space that was lost when walls were removed to open the design.
Another thing I noticed was that the beautiful glass backsplash had electrical outlets and switches. However, there are now plug strips available that can be recessed in a valence under the upper cabinets. These allow the design of a beautiful glass or other tile backsplash to be uninterrupted by plugs and switches.
These are just a few of the small, but significant design touches that clients receive when they work with an experienced contractor and a skilled design professional.